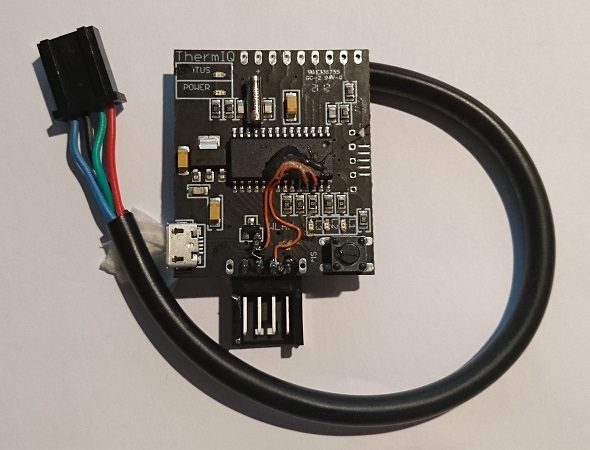 ThermIQ works with almost all Thermia and Danfoss heatpumps with graphical display produced after 2012 except for Atec/DHP-AQ, DHP-IQ and DHP-M
At least he following modells can contoled and logged with ThermIQ
* Danfoss DHP series (Except DHP-Aq)
* Thermia G3
* Thermia Diplomat/Optimum G3
* Thermia Diplomat Optimum G2
* Thermia Diplomat Duo Optimum G2
* Thermia Diplomat Duo Optimum
* Thermia Diplomat Optimum
* Thermia Diplomat Duo
* Thermia Diplomat
* Thermia Atria Duo Optimum
* Thermia Atria Optimum
* Thermia Atria Duo
* Thermia Atria
It is not possible to use either Thermia Online or Thermia Link together with ThermIQ
This version of ThermIQ has been updated with a micro USB connector compared to previous models. It has also been handmodify to fix a design error.
Thermia is a part of the Danfoss group, and uses the Danfoss name on certain markets. All new heatpumps labled Danfoss are compatible with ThermIQ.
ThermIQ is currently out of stock, Please add yourself to the waitlist to get notified when next production run is done.